Dubai records 84% hike in property deals
페이지 정보
작성자

관리자

작성일

21-10-11 12:15 조회91회 댓글0건
본문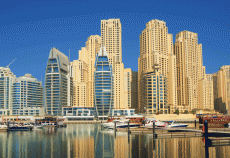 Real estate sales in Dubai have surged 84% during the first two months of the year

Dubai records 84% hike in property deals
by CW Staff on Mar 7, 2012


RELATED ARTICLES: Al Habtoor backs IPO for Dubai contractor | Uncertain future for troubled Dubai Lagoon project | $4bn boost for Dubai if it hosts World Expo 2020
A $96m sale in January helped the total value of real estate deals registered in Dubai rise 33% year-on-year during the first two months of 2012, while the total number of transactions surged 84%, official figures show.
Data from the Dubai Land Department showed 448 deals were recorded in January and February this year, a rise of 84% compared to the same period in 2011. While volume was up, values lagged behind, rising 33% to AED3.698bn ($1.006bn).
An analysis of the two months showed a disparage in performance. January saw volumes rise 94% year-on-year, while total value was down 0.9%, despite a mammoth AED355m ($96.6m) sale in January in the Marsa district of Dubai.
By comparison, February saw volume up 73%, while value surged ahead a massive 167%. The most popular district was Al Barsha, where there was 28 sales registered in February alone. 
The city's agents were quick to view the figures as emphasis the market was beginning to return to normality and demonstrated an upward movement.
"Sales across Dubai are on the increase and this is due to the stabilising of the real estate market and the safety and security that living in the UAE can bring," said Paul Musson, manager of residential sales and leasing at Better Homes' Barsha office:
"Confidence is growing in favour of Dubai as other areas in the region are hit by internal disputes and an unstable future. The sales transactions are on the increase; however this is not reflected in the now flat line selling prices. This suggests that the worst is now behind us and we can look forward to a healthy recovery for end users and investors alike."
Andrew Goodwin, director of consultancy firm DTZ said it was encouraging that volumes are up. "This means that there are a greater number of lenders (borrowers) in the market and even if values are down, these will increase in time if the trend continues," he believed.