Komatsu preparing list of takeover targets
페이지 정보
작성자

관리자

작성일

21-10-11 12:04 조회160회 댓글0건
본문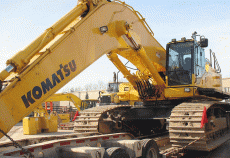 Komatsu is planning for the next gen of hybrids and driver-less trucks



Komatsu preparing list of takeover targets
by CW Staff on Dec 11, 2011

 
RELATED ARTICLES: Aftershocks holding up factory repairs in Japan | Bobcat robots helping Japan earthquake recovery | Japanese companies react to Tsunami disaster
Komatsu's president Kunio Noji says the company is prepared to wait three years to acquire US and European targets.
Noji told Bloomberg that the world's second biggest construction machinery manufacturer is looking at a host of potential purchases. It is particularly interested in parts and technology providers which can aid the development of hybrid earth-moving machines and mining trucks.
He added that the company also wants to enter the underground mining equipment sector.
"There are lots of good companies. Right now it's difficult to persuade targeted companies to be part of our company," said Noji. "We don't do hostile takeovers, but I think one day in two or three years they'll come to us."
 
As one of the biggest foreign providers of excavators in the Chinese market, Komatsu is enduring a tough year in the sector. He said that the sale of excavators fell by over 50% in November compared to 2010 and he is predicting that will continue into 2012. Despite selling fewer machines and facing stiffer competition Noji insists the company will raise prices in the market.
"It's not easy to raise product prices, but we were able to maintain our profit margins," he said. "Regardless of whether our market share declines, Komatsu is responsible for raising prices to create a healthy market as a leading company in China."