Shake up for Volvo European operation
페이지 정보
작성자

관리자

작성일

21-10-11 11:35 조회148회 댓글0건
본문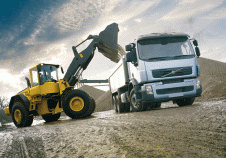 Volvo consider the mining sector an important area for growth


Shake up for Volvo European operation
by Stephen White on Sep 21, 2011
Volvo Construction Equipment is to centralise its sales and customer support structure in a move the company says will speed-up its response times.
The Swedish company has revealed that its sales organisation will be restructured to consist of Region Americas, Region Asia Pacific, Region China, and Region Europe/Middle East/Africa.
It added that the its Customer Support (CST) structure "will be integrated with the other functions in the company. Among other benefits, this will improve customer orientation, enhance focus on soft offerings and further increase speed of execution by eliminating overlaps with the regional, technology and operations functions".
The company has also revealed that it is to build a new excavator plant in Kaluga, Russia at a 15ha site it purchased in 2007 to service the 25,000 per year market.
The Kaluga plant will initially manufacture five models of Volvo excavator for the Russian market including the Volvo EC210, EC240, EC290, EC360 and EC460, with production planned to begin in the first quarter of 2013.
"The new investment in Russia is part of our strategy to build machines where they are sold and thanks to a strong partnership with our Russian dealer, Ferronordic, our customer base is growing significantly in the country," explained CEO of Volvo Construction Equipment, Pat Olney. "We have seen a strong commitment from Ferronordic, who is investing a substantial amount of money to support their further expansion in the Russian market."
Volvo CE has also entered into a partnership with fellow Swedish mining, construction and offshore equipment manufacturer CeDe Group that will see it offer road-rail machines, drilling and piling rigs, forestry bucket jibs, tunneling machines and all-terrain forklift unit in the MENA region. The deal plugs in some gaps in Volvo's current offering and will first be focused on Finland, Denmark and Norway.