KSA officials give GCC railway project green light
페이지 정보
작성자

관리자

작성일

21-10-11 11:34 조회129회 댓글0건
본문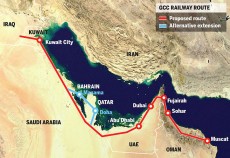 Saudi Arabia's Council of Ministers have approved plans for the Saudi leg of the GCC railway network. Photo: ITP
 
KSA officials give GCC railway project green light
by CW Staff on Sep 20, 2011
RELATED ARTICLES: Etihad Rail awards railway wagon contract | Transport ministry takes over Oman railway project | Construction begins on 500km Jordan-Iraq railway
Saudi Arabia's Council of Ministers has given the go-ahead to implement the $25bn GCC railway project, government officials announced on Monday.
The 2,117km long railway project will link the six GCC countries boosting regional travel and trade ties between the six countries.Trains will hit speeds of up to 350kph.
"The Cabinet approved a request from the Ministry of Transport to prepare an engineering blueprint for the railway and follow up implementation of the project," Abdul Aziz Khoja, Culture and Information Minister, said in a report carried by Arab News.