US firm wins deal for phase 4 of Doha mega project
페이지 정보
작성자

관리자

작성일

21-10-11 11:31 조회143회 댓글0건
본문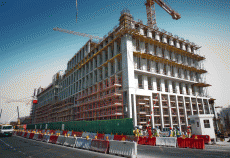 Phase 4 of the $5.5bn Msheireb Downtown development has been awarded to US-firm HOK.


US firm wins deal for phase 4 of Doha mega project

by CW Staff on Sep 11, 2011
RELATED ARTICLES: AEB wins design contract for Qatar shopping malls | Swedish firm manages waste at Msheireb Downtown | Msheireb Properties appoints LEED consultant
Msheireb Properties announced on Saturday that it had appointed a US-based firm to act as lead consultant for phase 4 of the $5.5bn Msheireb Downtown mega project in Doha.
Hellmuth, Obata + Kassabaum (HOK) was chosen from a group of internationally renowned architectural firms competing to undertake the design development contract, Msheireb said in a statement.
Phase 4 of Msheireb Downtown comprises 135,000m2 of mixed-use development across 12 buildings that will include commercial, retail, healthcare, residential, a 4-star hotel, civic buildings and public spaces.
Issa M Al Mohannadi, CEO of Msheireb Properties, said: "Msheireb Downtown is fundamentally rooted in Qatar's heritage but simultaneously seeks to accentuate modern environmental management and international standards in sustainability through its groundbreaking architectural and design techniques.