Architect reveals design for Taiwan art complex
페이지 정보
작성자

관리자

작성일

21-10-11 11:31 조회141회 댓글0건
본문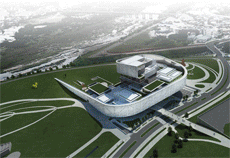 The new Museum of Art will be located in a park at the junction of the Yingge and Dahan rivers.
 
Architect reveals design for Taiwan art complex
by CW Staff on Sep 11, 2011


RELATED ARTICLES: Taipei 101 becomes world's tallest green building | Magic School is Taiwan's first zero-carbon build | Taiwanese woodworking firm put down regional roots
US-based Zerafa Architecture Studio has revealed its proposed design for the New Taipei City Museum of Art (NTCArt) in Taiwan.
Located in a park at the meeting of the Yingge and Dahan rivers, the scheme will combine lifestyle, art, recreation and education to create a vibrant cultural complex.
The museum's programmatic spaces are loosely organised in a cascading composition rotating around a central void and the various galleries are conceived as individual elements.
The scheme will also contain a two-storey NTCArt Children's Museum which will be distinct from the main museum.