Qatar 2022 stadia design reflect local inspiration
페이지 정보
작성자

관리자

작성일

21-10-11 11:29 조회514회 댓글0건
본문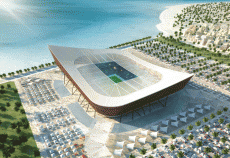 Al Shamal Stadium - one of nin new stadia planned for Qatar in time for the 2022 World Cup.
 
Qatar 2022 stadia design reflect local inspiration
by CW Staff on Sep 7, 2011
RELATED ARTICLES: Qatar could rack up $220bn bill to host World Cup | Qatar 2022: all the headlines | 'It was all lies,' says Qatar 2022 whistleblower
The architect working on the Qatar stadia for the World Cup 2022 said interior design of the facilities will be heavily influenced by local culture.
Axel Bienhaus, partner and shareholder, AS&P GbR, told Middle East Architect the firm was designing eight out of the 12 stadiums for the World Cup, and hoped to land the contract for doing the interior design as well.
"These will be iconic stadiums. For one of them, we chose the sea shell design because it reflects on the country," said Bienhaus.
"From the outer appearance to the interior design, we are trying to capture a local reference," he added.
He said his clients want a high standard of quality in the interior as well, and while that is challenging, it means strict quality regulations and opportunities for innovation.
"The interior design will reflect the high quality attitude of our clients, and that's what makes it really fun for us to work on these projects," added Bienhaus.